The film Predator isn't just some big, noisy, dumb action flick – it's actually a clever film about the limitations of masculinity. The Predator kills men for excessive machismo, each in a way that specifically mocks the manner of his swagger. The only way a man can survive is if he accepts the limits of his masculinity.
I recently shared this idea over on Reddit and it seemed quite popular, so I thought I'd a) make a proper post of it and b) take time to develop the idea further.
It's a well-worn observation that Predator is about manliness. Seven men compete for alpha status, showboating their strength, stoicism and raw, physical power. Whether it's Dutch (Schwarzenegger) and Dillon (Carl Weathers) greeting by arm-wrestle; Blain (Jesse Ventura) declaring himself a "sexual tyrannosaurus"; Billy cutting himself wild-eyed before the Predator pounces – masculinity drips from this movie, and the characters' toughness is an implied point of pretty much every set piece in the film.



The usual interpretation goes something like this: "most of the squad perform their masculinity by strutting around with automatic weapons, but it's only when Arnie loses his guns and has to tap into his inner strength as a hunter and warrior that he can finally vanquish the monster". The idea is that the film is really a parable about the difference between machismo and masculinity – the former is something performed, ostentatious, essentially fake; the latter is the 'real deal', real strength.
I like this idea, but have a slightly different take: Dutch doesn't survive because he has the more 'genuine' masculinity, but because he casts off his manliness when he needs to. He can run; cry in pain; cast his weapon aside and lie down passively. The others can't, and that's why they die.
More than that: they each die in a way that calls back to how they assert their manliness earlier in the film. The Predator is both punishing them for their excessive machismo and underlining the futility of their performance and bravado.
Let me take you through each death in turn and you'll see what I mean.
Hawkins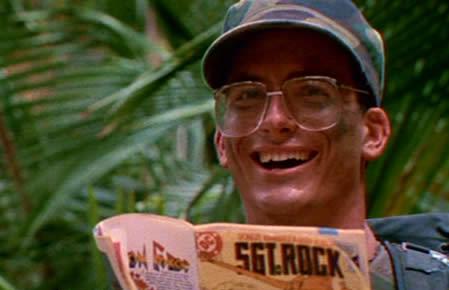 Scrawny, glasses-wearing radioman Hawkins is the first to die. Appropriately enough, he is the least successful in projecting his masculinity: he struggles to crack bawdy jokes about his girlfriend's vagina, finds little useful intel for the team, and kills few during the guerrilla camp raid.
He dies when he runs after Anna and catches the attention of the alien. Out of context, the scene almost resembles a rape – Hawkins chases Anna and wrestles her to the ground. But this dynamic is reversed when the predator runs him through, drags him on his back, strips Hawkins naked and promptly disembowels him.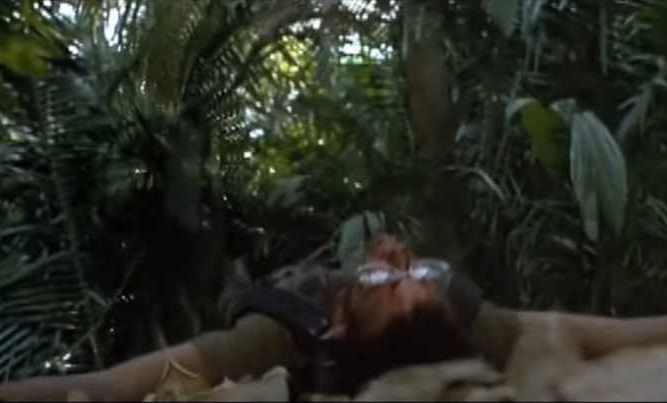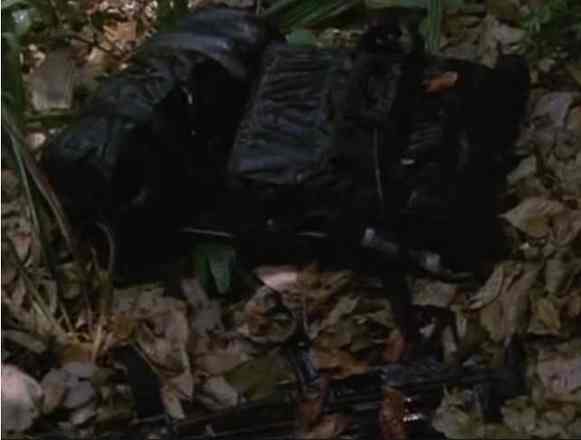 Do you remember the joke he keeps telling? It's about how big his girlfriend's "pussy" is. The predator essentially carves him a fairly large one of his own. We see him moments later, dangling upside a tree, a gaping hole in his belly.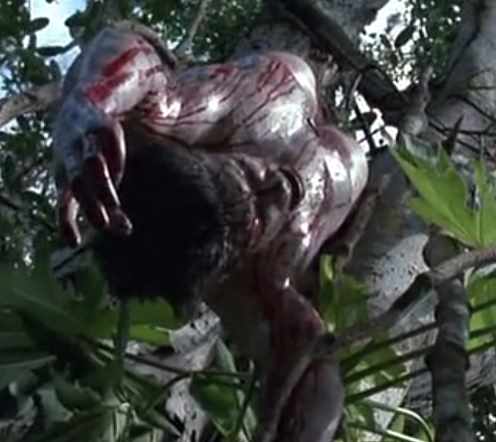 A ghoulish detail: judging by the naked marines Billy discovers at the start of the film, similarly skinned and upside down, the predator doesn't just gut men – it castrates them.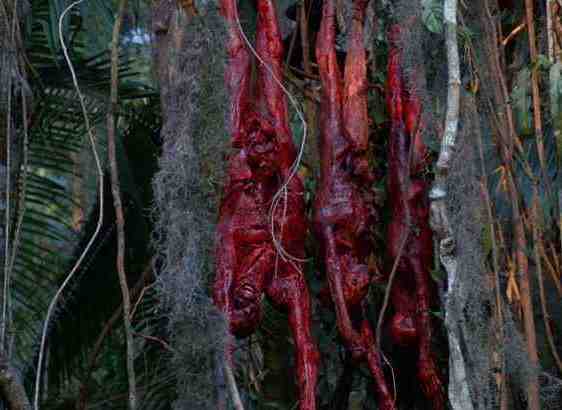 Blain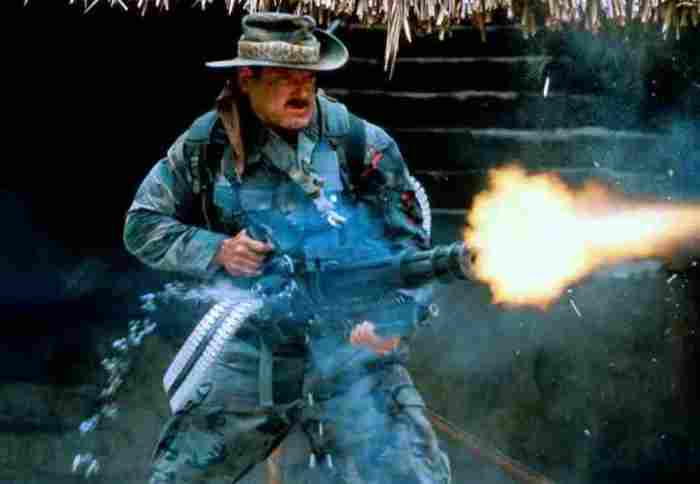 Blain is the second to go. Unlike Hawkins, Blain's problem isn't that his machismo is unconvincing as that it's so excessive and ostentatious. Strutting around with his enormous minigun (I won't make the phallic link if you won't), Ventura has maybe the most famous lines outside of Arnie's:
1




2




3




4




5




6




7




8




9




10




11




12




13




EXT. BASE OF ROCK WALL - DAY





<Blain joins Ramirez, behind cover at the foot of the cliff. As they




take cover, Ramirez notices the wound on Blain's shoulder.>





RAMIREZ




You're hit. You're bleedin', man.





<Blain looks briefly at the wound.>





BLAIN




(spits)




Ain't got time to bleed.



And indeed he doesn't. When the predator fires a plasma bolt through Blain's torso, there's an initial burst of gore, but the lasting wound is bloodless:
1




2




3




4




5




6




7




8




DUTCH




...Just like the others...no




powder burns, no shrapnel.





DILLON




The wound all fused,




cauterized...what the hell




did this?



Mac
Third to go is Dutch's right hand man:
You might remember him snatching Dillon from behind, threatening that if he blows the team's cover, Mac will "bleed him". He's probably the least mentally stable of the gang: menacingly violent, quiet in company, but often talking to himself alone. When the Predator escapes the team's net trap, Mac takes chase, babbling to himself, mentally decomposing into a violent trance.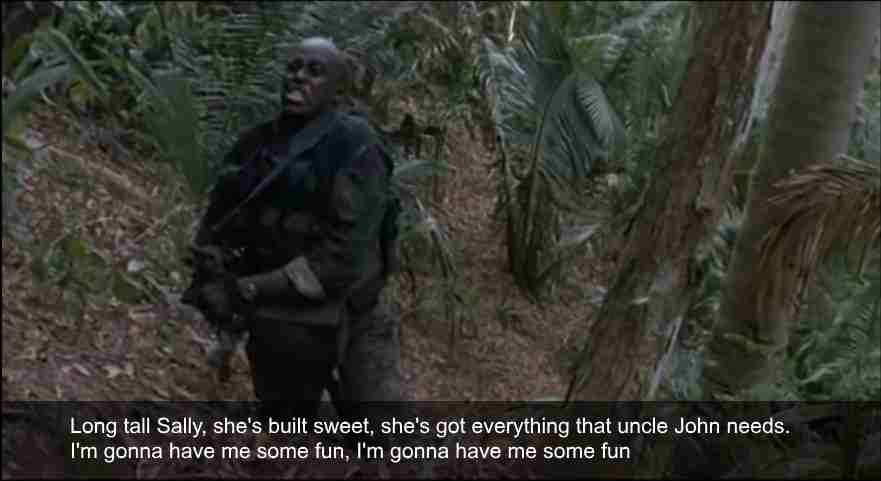 Mac's weapon – what makes him threatening – is his head: his quiet rage, his implied potential madness. And we keep looking at his head, as he shaves it over and over – right from his introduction on the chopper, through to my favourite moment in the whole film: when the men lay a trap for the monster, and the atmosphere tenses so hard Mac snaps his razor clean in two.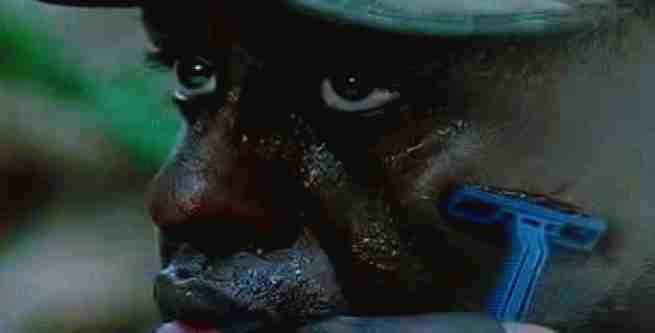 Isn't it curious, then, that Mac is the only one who dies by headshot?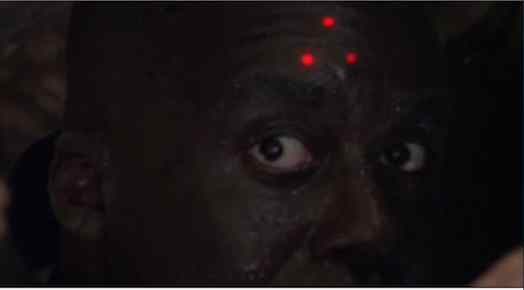 Each man dies by means that mock his prior threats and bravado.
There's other callbacks for Mac, too. He's the quietest character – sneaking up behind Dillon three times – but he's out-stealthed when the alien quietly climbs over him. He's tells the departed Blain that the monster "has my name on 'em" – it's the predator that marks Mac with his 'sign' (the triple-dot laser sight) instead.
Dillon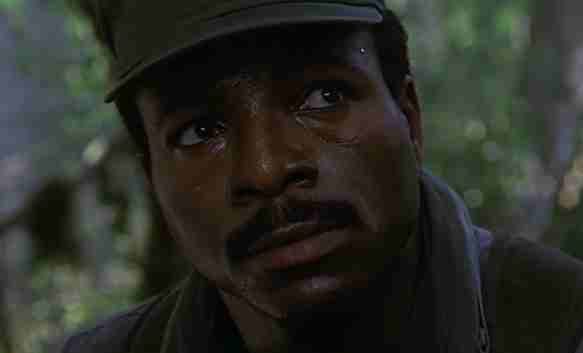 Dutch's old friend from some unnamed army unit, Dillon is keen to show he hasn't softened with promotion into the higher ranks of military brass. So he greets Dutch with an arm wrestle – but loses. This turns out to matter.
Dillon has his arm lasered off and is shortly run through by the predator's claws. This death is the most obviously telegraphed: it's the same arm. In the former scene, the arm is brought to the ground as it desperately pushes back; in the latter, the arm falls to the ground firing its weapon impotently. They are essentially parallel images.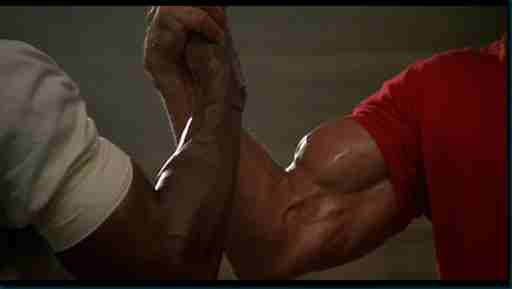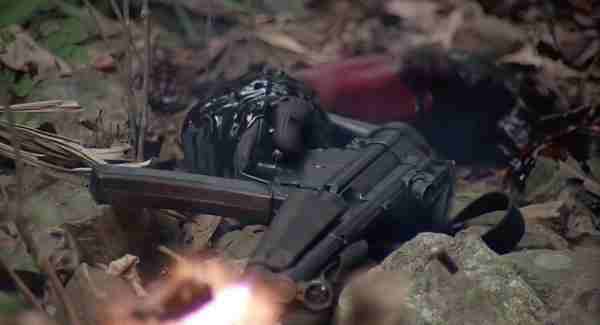 Poncho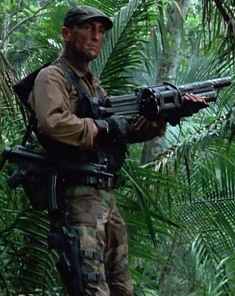 The tall and wiry Poncho isn't quite as big a presence as the other men, so this one's a little tougher to read. Poncho's main claim to bravado seems to be his six-shooter grenade launcher. It's a bombastic, extravagant weapon that sends guerilla mooks tumbling helplessly through the air: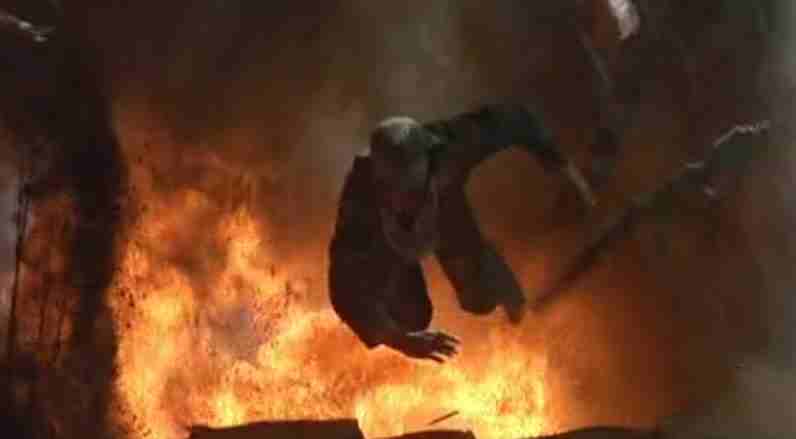 How does Poncho die? When the gang set their net trap for the predator, they also hang an enormous log to swing in and cripple the creature with its sheer momentum. But in the confusion of the predator's counter attack, Poncho is hit by it and sent skyward – the same fate he'd dealt to the enemy soldiers only a day before. He lands in a crumpled heap and is easily dispatched a few minutes later.
Not convinced? There's a little ad-hoc addition to the original screenplay. When Blain boldly asserts he "ain't got time to bleed", Poncho quips back: "Oh yeah!? Have you got time to duck?". The next day, everyone has time to duck… except him.
Billy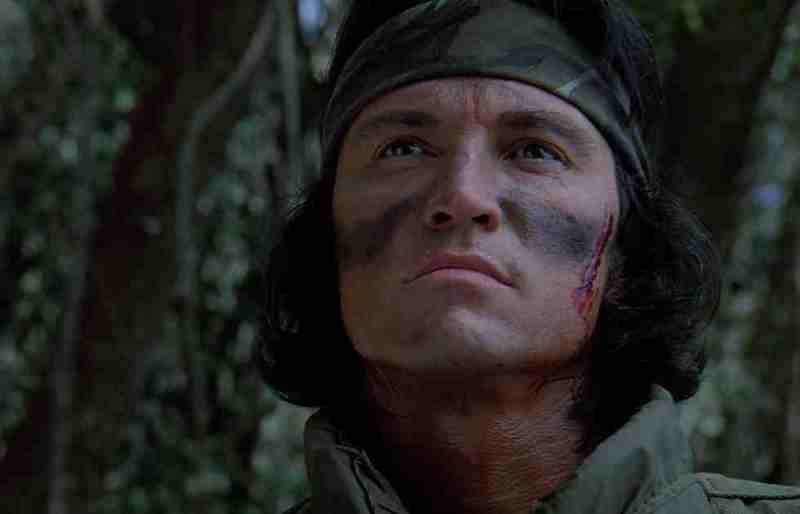 Billy is a special case. He dies last, and on his own terms. He also has the privilege of an off-screen death, which preserves his nobility – we can go away imagining (or at least hoping) that he puts up some fight.
What makes Billy different from the others is that he doesn't swagger. In fact, he's the only member of the unit who openly expresses his fear. He has long hair and a superstitious streak. There's a long tradition that figures 'irrationality' and belief in myth and legend as something feminine – "hysteria" – but this doesn't bother Billy, and that ends up giving him an edge.
Of course, Billy doesn't take Anna's scary stories seriously just because he's comfortable with his masculinity and bravery. He believes them because he's part-Sioux, and comes from a people that has first-hand experience of fighting a technologically superior, alien race. His belief in magic keeps him alive, because how would alien technology look like anything else? If you only believe in what you can explain, you're a sitting duck to a creature with plasma rifles and optic camouflage.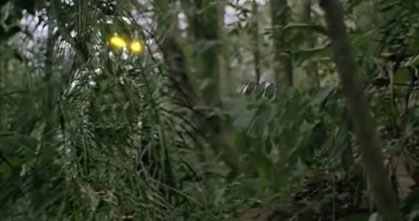 The fact that Billy survives so long, then, adds another dimension to the film's ideas: that it's not just excessive masculinity that perishes, but a kind of imperial or colonial advantage. If this seems a stretch, bear with me, because it'll prove important when we explain how Arnie's character survives.
So, why does Dutch survive?
Simply put – Schwarzenegger's character puts away excessive machismo and modern Western technology, and takes up passivity and 'native' techniques as and when they are necessary.
Dutch tempers his masculinity with pragmatism. He knows when to run, when to hide, and when to stop fighting. He cries out in pain when the Predator beats him – cries which you'll notice sound high-pitched and feminine when they're heard from the Predator's perspective. He can lie in wait, and can give himself up. These are more passive, less virile ways to fight.
And the fighting itself is done in historic, pre-agricultural fashion. He swaps guns for spears, and in one scene actually turns his grenades into gunpowder for arrows.
When he's finally rescued, Dutch is speechless. He's totally alienated from the 'rational', modern Western world – he's experienced something he could never hope to explain. The original screenplay makes a lot more of this difference:
1




2




3




4




5




6




7




8




9




10




11




12




13




SCHAEFER




stands in the clearing, staring at the helicopter and




the array of weapons pointed at him. He looks dazed,




like a man making contact with members of an alien




race, for the first time.





...





PHILIPS




"If it hadn't been for her, he'd




 be dead now. That story she




 told us...I still can't believe




 it."



So Dutch hasn't just shed the excessive, swaggering masculinity of his teammates: he's lost his American, Western identity too. He is like a tribesman first encountering Europeans.
Okay, but what's the point of it all?
Let's say you accept my argument that the Predator hunts people who project excessive masculine, and possibly colonial dominance. You might well still ask, "so what? Why is the film doing this?"
I'm not sure I really see Predator as a deconstruction or 'critique' of masculinity, because whilst the soldiers' behaviour is self-destructive, it's only so because of an outside force. The predator is a deus ex machina to punish machismo. If it wasn't for him, the film would have ended after the guerilla camp raid – a condensed remake of Commando.
Maybe the point of horror is to create monsters that symbolise the inverse of our cherished identities? Like Alien (1979), which seeks to 'sexually assault' its victims, perhaps Predator tries to scare its audience – mostly Western men, at least on release – by confronting them with the idea the only way to survive is through un-Western un-maleness.
I will leave this question open to the reader. But I'd urge you to give the film another watch with these ideas in mind – not just if you think it's an eighties classic, but especially if you think it's a brainless action flick. It is _so_ much better than that.